Dr. Darren Pavey - Gastroenterologist (Chair-elect)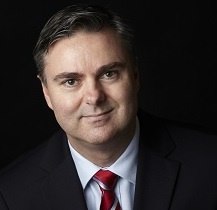 Dr Darren Pavey is an interventional endoscopist with extensive clinical experience in the endoscopic diagnosis and management of gastrointestinal cancers. His clinical practice is enhanced by his interest in clinical-outcomes research for endoscopic management of GI malignancies.
Dr Pavey completed an Advanced Fellowship in ERCP, EUS and lnterventional Endoscopy at Duke University in North Carolina where he was a faculty member until he returned to Sydney to establish his practice in 2008.
Dr Pavey is Co-Chair, Gastroenterology Network, NSW Agency for Clinical Innovation (ACI), and Head of Endoscopy at Bankstown Hospital. He established and runs the Barrett's Program in the South West Sydney Local Health District and has co-written the guidelines for the Cancer Council of NSW for the treatment of Barrett's Esophagus.
Dr Pavey is the representative of the Royal Australasian College of Physicians (RACP) on the Conjoint Committee for the Recognition of Training in Gastrointestinal Endoscopy (CCRTGE), which pancreatic and bowel reflects his ongoing interests in training and maintaining quality in endoscopy.
He is also closely involved in the research of outcomes for patients with esophageal, gastric, cancers and collaborates with the Australian Gastrointestinal Trials Group (AGITG) and other researcher institutions, including the Garvan Research Institute and the Ingham Institute.
He is Conjoint Senior Lecturer at the University of New South Wales and Clinical Senior Lecturer at Macquarie University.